Trees & Trails; An Urban Hike in South Oakland County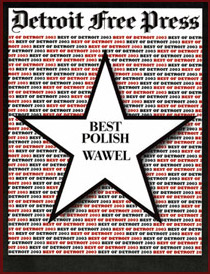 We had an outstanding Polish Lunch at the Wawel Restaurant today. They specialize in delicious and reasonably priced Polish cuisine, including  house specialties and other customer favorites. Their cuisine entrees are served in a relaxed and welcoming setting that you and your friends and family are sure to enjoy. Whether you are in the mood to indulge in something new or just want to enjoy some old favorites, they promise that their inventive menu and attentive service will leave you truly satisfied. No matter what your occasion calls for or your appetite demands, the friendly staff at Wawel Restaurant promise to make your next dining experience a pleasant one.
After a such a wonderful lunch, we need to walk, so we headed over to the Red Oaks Nature Center in Madison Heights. What a lovely place of Trees and Trails! The trails are paved and full of nature, crazy squirrels darting about, trees, leaves and just a really cool little set of trains in the middle of residential neighborhood.
If you have just half an hour to spare between meetings or after work and want to take a quick walk? Is the dog park full of mud, or is the park behind your house a swampy mess? Do you just want to enjoy a little patch of quiet, green space away from the crowded city streets without having to battle at least an hour's worth of heavy traffic to get there?
Then check out one of my favorite hidden gems in the area—the nature trails at Red Oaks Nature Center in Madison Heights.
You'll find the Woods and Nature Center only a block north of busy 13 Mile Road between John R and Dequindre, but strolling the tranquil trail system can make you feel as if you momentarily stepped into a northern Michigan woods.
The Detroit area has many nice nature centers, but the Madison Heights center is my favorite because it reta
ins much of its natural ambience while being easily accessible and close to home.
The asphalted 1-1/3 mile trail system makes it an especially good choice for casual walkers when soggy ground, especially in early spring, makes walking on unpaved trails a messy proposition. The paved, flat trail also makes it an accessible option for wheelchair users or others with mobility challenges.
I like the asphalt surface because it is more comfortable than walking on regular hard concrete sidewalks in the neighborhood.
The trails also become an option for cross country skiers when we get enough snow—making it a true four-season trail.
The trails also seem especially popular with dog owners, because I always see dogs walking their owners when I walk the trail myself!
Pets require a leash, and there are small boxes with plastic bags for use to pick up doggie droppings at the trailheads.
The log cabin Nature Center has displays featuring animals common to the area plus meeting areas and a small auditorium for the center's educational activities. A coordinator, naturalist and crew of volunteers care for the trails and keep the center open six days a week (closed Mondays).
The popular Nature Center averages 115 visitors per day and 31,000 visitors per year, according their Web site. However, I've walked the trails at many different times of day and on different days of the week, and I've never seen them crowded.
The trails remain open seven days a week, usually from 8:30 a.m. until sunset. The posted closing time, which varies with sunset times, is on a sign as you enter the center's parking lot.
The 37-1/2 acre woods and center opened in 1996 and bears the name of a long-time Madison Heights mayor and county commissioner.
The center has a great schedule of activities, especially for families or anyone who has to entertain a young niece or nephew. Organized center programs include guided nature walks with the naturalist, night sky observation with a local astronomer, maple syrup tapping, honey harvesting, movies and hot dog lunches where volunteers do the grilling.
I drop into the center building once in a great while, but mostly I enjoy the trails through the Suarez Friendship Woods as my own little 30-minute respite from hectic city life.
What are you favorite quick escapes from busy urban life around town?
This article brought to you by the fine folks at Urbane Apartments in Royal Oak, Urbane Apartments in Birmingham, Urbane Apartments in Berkley, Urbane Apartments in Milford, Urbane Apartments Ferndale.
WRITTEN BY ERIC BROWN
Eric's background is rooted in the rental and real estate industries. He founded metro Detroit's Urbane Apartments in 2002, after serving as senior vice president for a major Midwest apartment developer. He established a proven track record of effectively repositioning existing rental properties in a way that added value for investors while enhancing the resident experience. He also established Urbane Media, a social media marketing and PR laboratory, where innovative marketing ideas are tested. Eric has been featured in Entrepreneur Magazine and Business Week Magazine, the New York Times and Harvard Business Review . You can connect with Eric at  UrbaneLife on Twitter. Eric also writes regular articles for the following publications:
RDA Press, (Rich Dad Advisors) are publishing Eric's first book,Apartments to Hot Sauce; RED HOT RECIPES FOR YOUR BUSINESS START-UP, to be on the bookstore shelves in MARCH-2017!