I like riding my bicycle around my neighborhood as a change of pace from walking or going on out to the fitness club for a choreographed group dance session, but sometimes I don't feel like competing with cars for the road.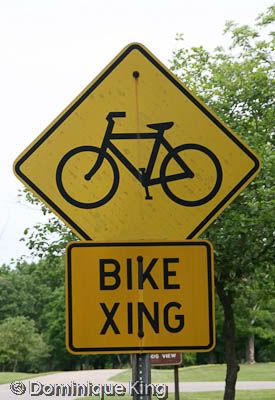 Much as we love Kensington Metropark in Milford, the rolling terrain of the park's 8½-mile paved loop makes it a little more challenging that I might like for a leisurely bicycle ride on a hot day.
So we often find ourselves heading a bit further west to another park in the Huron-Clinton Metropark system—Washtenaw County's Hudson Mills in Dexter and a little northwest of Ann Arbor. A trip or two around Hudson Mills' relatively flat 3½-mile paved bike-hike loop around the park, followed by a picnic by the Huron River, is the perfect way to spend the day. Some picnic areas are even close enough to the water that you can do a little wading or sit along the riverbank and kibitz with passing canoeists and kayakers as you enjoy your lunch.
More after the break…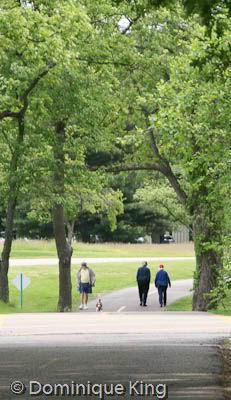 Don't have a bicycle? Hudson Mills, unlike Kensington, offers single-speed bicycle rentals on an hourly basis. You can even rent a bicycle built for two!
Check out rental bikes at the park's Activity Center building. The Activity Center also rents cross country ski equipment during the winter.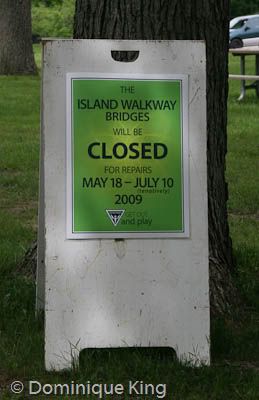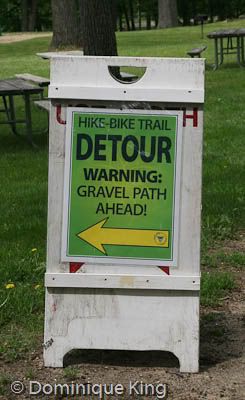 Repair work on the two bridges along Hudson Mills' bike-hike trail meant some closures along portions of the route the last time we visited. But a marked detour along a level gravel path meant walkers and bikers could still travel a loop through the park. Plans call for completion of trail repairs by mid-July.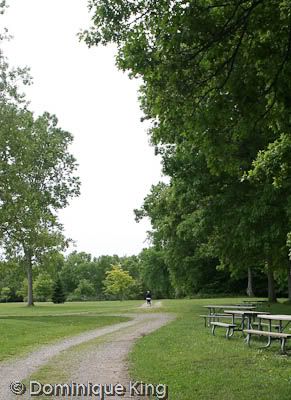 The 1,549-acre Hudson Mills is about a third of the size of the nearly 4,500-acre Kensington Metropark. Hudson Mills' more compact size seems to draw fewer massive group events than its larger counterpart, and this may be why it feels less crowded than Kensington to me.
Hudson Mills' amenities include an 18-hole golf course, disc golf courses, nature trails and easy access to the Huron River for canoeing and kayaking.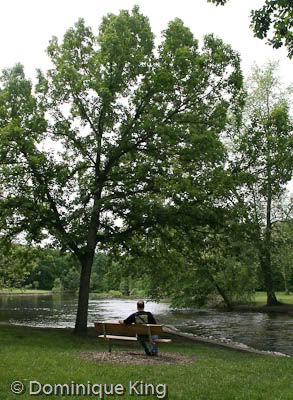 The park's name comes from its history as an early 19th century settlement dependent on the Huron River to power early industry like a sawmill, cider mill, plaster mill, pulp mill and a grist mill. The mills powered the Hudson Mills settlement until the early 1900s. Little trace remains of the mill community now beyond the park's name.
The park and river were so peaceful one recent weekday afternoon that we saw several fishers enjoying the serenity of the lightly populated park for some quiet fly fishing.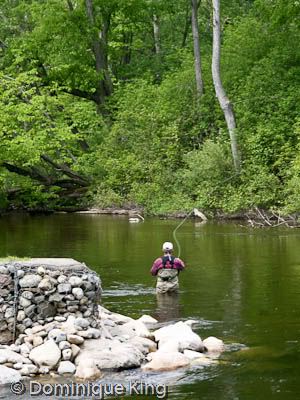 Daily Metropark entry fees for 2009 are $4 per vehicle, but why not live large and get an annual pass that covers entry for all parks in the Huron-Clinton Metropark system for $20?
Check the Hudson Mills Metropark Web site for information about bicycle rentals, golf and disc golf fees, special events and other park activities.
This article brought to you by the good folks at Urbane Apartments Royal Oak Michigan, Urbane Apartments Ferndale Michigan,Urbane Apartments Birmingham Michigan, and Urbane Apartments Dearborn Michigan