Cool cars and hot tracks…what's not to like?
Playing off of the popularity of their original Rock Stars' Cars & Guitars exhibit in 2007, The Henry Ford museum in Dearborn offers up a second helping of heavy metal chrome and raucous tunes with an all-new encore featuring more than 20 cool cars, 50 custom guitars, plus stage costumes and rock props.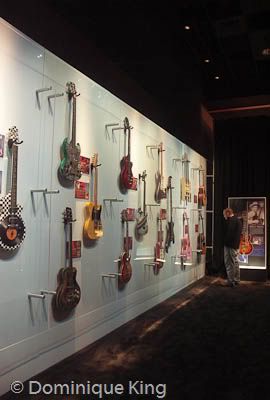 We hit the show's May 16 debut on a rainy Saturday, and found the normally staid museum rocking out to free concerts by local bands like kid-friendly favorites The Candy Band and, for an 80s flashback, the retro cover band 80's Inc.
Read more about the stars, cars and guitars after the break…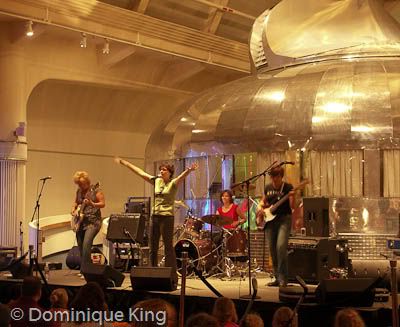 The music got everyone revved up as they toured the car and guitar collection, which reminded me a bit of exhibits at the Rock and Roll Hall of Fame + Museum—only with more of an emphasis on the cool custom rides, many of them loaned to the museum by the music stars themselves.
Some of my favorite rides included the pearl-lavender 1953 Buick Skylark, complete with a matching amp and guitar, from Metallica's James Hetfield and Alice Cooper's lime-green "Billion Dollar Babies" themed 1939 Lincoln Zephyr.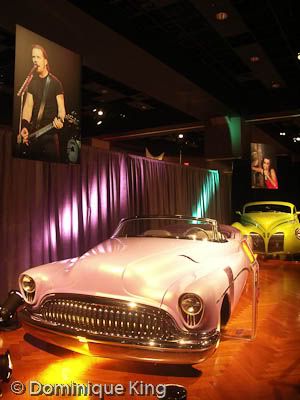 Snoop Dogg's gold Caddy, the long black Continental that starred in a Kid Rock video, the famous 1933 red Ford Coupe "Eliminator" that starred in several ZZ Top videos…they're all here.
There are also plenty of great guitars on display, including: a five-neck Hamer from Cheap Trick's Rick Nielsen; a pink guitar from rockabilly queen and 2009 Rock and Roll Hall of Fame inductee Wanda Jackson; and one of blues legend B.B. King's "Lucille" guitars.
A small selection of stage costumes and props scattered throughout the show include wardrobes from several generations of music stars, up to and including stage wear from the Jonas Brothers.
The exhibit itself probably takes an hour or less to see. But then if you haven't been to The Henry Ford lately, there are plenty of cars, other vehicles and roadside memorabilia to keep the gear head in you happy for at least several hours.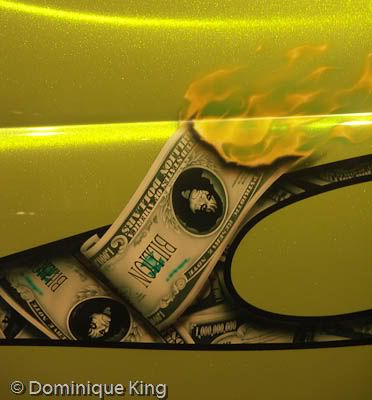 Meanwhile, the show's title, Rock Stars' Cars & Guitars 2, made the apostrophe geek in me happy.
The Henry Ford, 20900 Oakwood (just west of the Southfield Freeway and south of Michigan Ave. in Dearborn), is open 9:30 a.m. until 5 p.m. seven days a week.
Rock Stars' Cars & Guitars 2 runs through September 7 at The Henry Ford and is included with the regular $15 museum admission.
This article brought to you by the good folks at Urbane Apartments Royal Oak Michigan, Urbane Apartments Ferndale Michigan,Urbane Apartments Birmingham Michigan, and Urbane Apartments Dearborn Michigan